Christmas Themed Wall Hangings
Check out my new project that I'm working on.
Today I started making some
Christmas wall hangings.
It's a r
eally cute blog, c
heck it out.
Under the Table and Dreaming,
another really cute blog, worth checking out.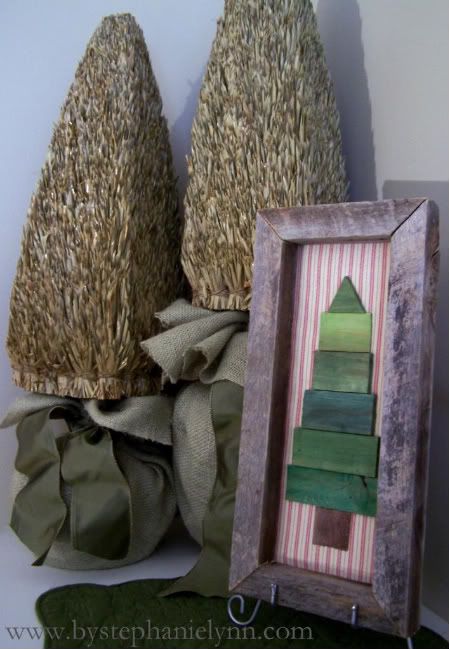 I wanted to incorporate both looks so...
I bought flat canvases at Wall Mart
- 3 for $9
My husband added wood strips
to the back at different heights. 1 @ 1" & 2 @ 2". I painted them Robin Eggs Blue. Then stamped them with white craft ink and 2 different snowflake designs and 1 circle stamp from Stamp'n Up.
Then I cut 2 1/4" strips from 12" wide paper, scored 1 score line at 1/4", and then 1/2" increments. Folded them with a bone folder to make a square, glued them with tacky glue. Then lined them up.
The Christmas Tree stem is 4" long. The bottom of the tree is 12" wide, shorten by 1/2" for each strip after that, for 18 square tubes. Add a 2" ribbon, buttons and a star.
For the present stamp the circles on the blue canvas. Then make 15 square tubes, I chose metallic gold paper. Add 2" silver ribbon and a simple knot and a bell at the top. Add different buttons to the button to finish the look.
Tomorrow I will make the last canvas, it will be a Christmas ornaments.